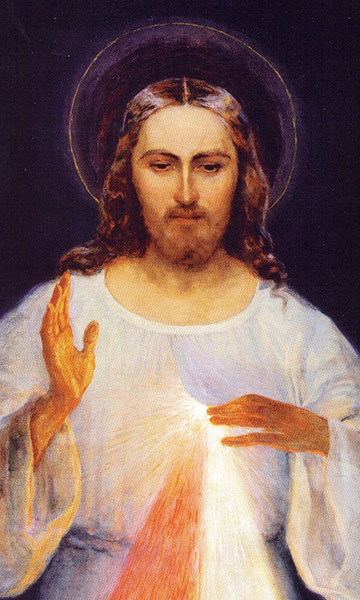 Pope Saint John Paul II dedicated the Second Sunday of Easter as Divine Mercy Sunday in the year 2000, upon the canonization of Saint Maria Faustina Kowalska. The Divine Mercy Sunday Gospel reading narrates Jesus' Resurrection appearance to the fearful disciples locked in the upper room (John 20:19), and then again eight days later (John 20:26), the second Sunday of Easter. The Gospel relates Jesus' sending the disciples in His peace, empowered by the Holy Spirit (John 20:19-23). Jesus entrusted to them the gift of forgiving sins, a gift flowing from His wounds, His pierced side, His Sacred Heart, in a wave of mercy poured out over all humanity (John Paul II, Divine Mercy Sunday Homily, 2001).
Sister Faustina was granted a vision of two rays of light coming from Jesus' Sacred Heart, one representing the blood of Christ's Paschal sacrifice and the mystery of the Eucharist, and the second representing the water of Baptism with the gift of the Holy Spirit (cf. Jn 3: 5; 4: 14).
"Jesus, I trust in you" is the accompanying prayer of devotion to Christ our merciful Redeemer.
Pope Saint John Paul II valued the spiritual experience of the humble religious Saint Faustina in establishing Divine Mercy Sunday, and "providence disposed that he should die precisely on the vigil of that day, in the hands of Divine Mercy" (Benedict XVI, Regina Caeli address, April 23, 2006). Pope Saint John Paul II was canonized on Divine Mercy Sunday, 2014, by Pope Francis.
May we enter "ever more deeply into the mystery of Divine Mercy, which always hopes and always forgives, because it always loves" (Pope Francis, Divine Mercy Sunday Homily, 2014).